The Trade Office and the Cultural Department of the Embassy of Hungary in The Hague organize, promote and support various business and cultural events each year. The aim of these events is to show the best of what Hungary has to offer.
The event calendar on this page provides an overview of upcoming conferences, panel discussions, performances, festivals, exhibitions and workshops. The calendar is updated regularly. Should you wish to receive a monthly overview of this via e-mail, please subscribe to our newsletter.
Videos of past events may be viewed on our YouTube channel.
August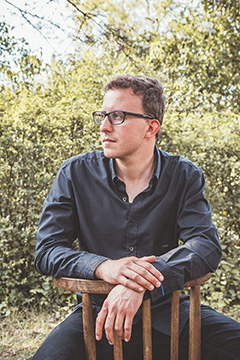 Amsterdam-based Hungarian jazz pianist Máté Lachegyi organises the concert series 'Realms of Imagination' at various venues in Amsterdam. Each concert focuses on a different field of imagination: spirituality, cinematography, poetry... For more information visit: http://www.matelachegyi.com/concerts/index.html
Thursday 1 July 20:30
Máté Lachegyi Quartet & Maripepa Contreras / Realms of Imagination, Vol. 1: Dreams
Sunday 4 July 16:00
Amsterdam, Singelkerk
Máté & Anna Lachegyi, Julián Sarmiento / Realms of Imagination, Vol. 2: Seeing with the Heart 
Saturday 14 August 20:30
Amsterdam, De Roode Bioscoop
Ancoor (Lachegyi/Vītols/Lotz) / Realms of Imagination, Vol. 3: Cinematic Visions
Friday 20 August 20:30
Amsterdam, Singelkerk
Willemijn van den Geest, Thijs van den Geest, Máté Lachegyi, Pedro Ivo Ferreira & Floris van Elderen / Realms of Imagination, Vol. 4: The Words Come to Life — poetry and jazz 
Music
Zeneakadémia
The Liszt Ferenc Music Academy in Budapest is broadcasting recordings from their archives three nights a week, on Wednesdays, Fridays and Sundays from 7.30 pm, on both their website and Facebook page. 
The Pannon Philharmonic 
The Pannon Philharmonic shares their concert collection through their YouTube channel. 
Budapest Festival Orchestra 
The Budapest Festival Orchestra performs through live streams.
Master classes by Hungarian maestro Iván Fischer with the Concertgebouw Orchestra 
The Concertgebouw Orchestra's conducting master class is invaluable for the participating conductors, for the young musicians who attend as listeners and for music lovers who want to learn more about the fascinating interaction between conductor and orchestra. During the 2019/2020 season, the master classes were given by Iván Fischer, one of the most popular guest conductors of the Concertgebouw Orchestra. NRC wrote a lovely article about the series.
Tourism 
WOW Hungary – 360 experience 
Until we can travel again, Hungary-Enthusiasts can pay a visit digitally by following the Hungarian Tourism Agency for great online touristic experiences such as a 360 degrees interactive map.
Culinary Giro d´Italia online
The Giro d´Italia had to be postponed, but Dolcevia.com is making sure you don't have to miss out on beautiful imagery of Hungary by organizing a digital tour full of tips and delicious recipes, including personal recommendations from Ambassador Kocsis. Hopefully we can soon visit Sümeg Castle and Hotel Kapitány Wellness in real life, but for now you can read about the first 3 stages of the tour online.
Drone imagery of empty Budapest 
Expert drone photographer Péter Kálló has used his experience and customized machine to capture the beautiful streets and squares of Budapest now that they are empty of people and traffic.
Virtual and home activities by Budapest Festival and Tourism Centre
With an online feature Budapest Festival and Tourism Centre offers a way to enjoy the long days spent at home through a selection of virtual or home activities so everyone can feel like they are a little bit outdoor.
Dance 
Recirquel Company Budapest: The Naked Clown 
In this spectacular production, accompanied and expanded with live music and dancers, are the acrobat artists of the Recirquel Company Budapest, a contemporary circus company. The show traverses the borders of circus arts, dance, theatre and music. The company invited five dancers and four trampoline artists to take part in the year-long creation of The Naked Clown.
Museums
Online exhibition about Ignaz Semmelweis
Ignaz Semmelweis (1818 – 13 August 1865) was a Hungarian physician and scientist, now known as an early pioneer of antiseptic procedures. Described as the "saviour of mothers", Semmelweis discovered that the incidence of puerperal fever (also known as "childbed fever") could be drastically cut by the use of hand disinfection in obstetrical clinics. This website is created, operated and copyrighted by HNM SEMMELWEIS MUSEUM, LIBRARY AND ARCHIVE OF THE HISTORY OF MEDICINE, BUDAPEST, HUNGARY.
The Hungarian National Gallery 
The Hungarian National Gallery with Hungarian and foreign works of art shares their exhibition in English online.
The Museum of Fine Arts, Budapest 
The Museum of Fine Arts, Budapest is currently showcasing its most valuable treasures on their website.
Hungarian National Museum 
It is now possible to view the 50 most valuable objects of the Hungarian National Museum online.
Kiscelli Museum 
The Kiscelli museum tells the history of Budapest through the Story of the Bridges.
The Ludwig Museum 
The Ludwig Museum has gathered all the content in one place for you to enjoy from your home.
Museum of Applied Arts 
Take a virtual walk through the Museum of Applied Arts.
Literature 
Babelmatrix
Literature plays a great part in learning about the cultures of each other. Thanks to the efforts of literary translators, literature is transmitted from one language to the other. Start your literary adventure enjoying the literatures of Visegrad countries in your mother tongue through the Babelmatrix, a multidimensional-multilingual web anthology, which is displaying parallelly the original and the translated works.
For more Hungarian literature (in English) visit:
- Hungarian Electronic Library
- Eight Hungarian Poets: Zsófia Balla, Zoltán Böszörményi, Árpád Farkas, Gizella Hervay, Sándor Kányádi, Aladár Lászlóffy, Domokos Szilágyi and Géza Szőcs translated by Paul Sohar. 
- For more Hungarian poetry: https://thehighwindowpress.com/2019/06/17/hungarian-poetry
Petőfi Literary Museum 
The Petőfi Literary Museum has published the English summary of the exhibition Who am I? , which presents the life of the Hungarian poet Sándor Petőfi, online.
Magda Szabó Memorial Museum 
One of the great Hungarian novelists of the 20th century, Magda Szabó's life is commemorated in the school that she frequented as a child in Debrecen. The exhibition can now also be visited online.
Photography
Hungary Photo Competition
In 2019, the Hungarian government announced 365 photo competitions in Hungary. Amateur and professional photographers submitted more than 20,000 images in three categories. Have a look at the works judged to be the best, including award-winning images.