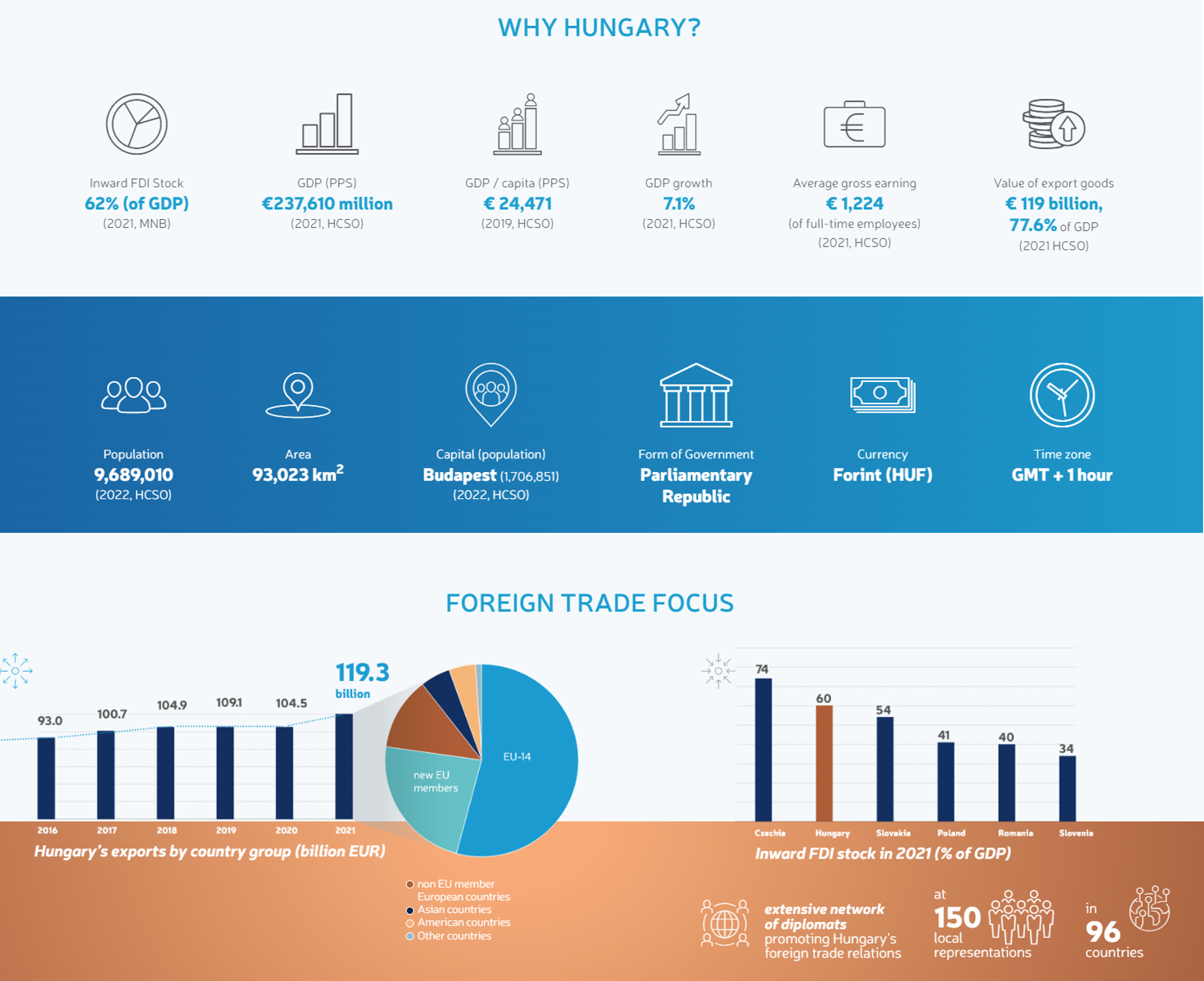 The priority of Hungarian economic diplomacy is to support the country's export activities and attract foreign investment to Hungary. The Trade Office of the Embassy of Hungary in the Netherlands is the first point of contact for Hungarian businesses interested in entering the Dutch market. We support them on a daily basis. We also encourage and assist Dutch companies to invest in Hungary. 
The Netherlands is one of the world's most important economies. In 2022, it was ranked as fifth on the Global Innovation Index, (measuring innovation development), as sixth on the World Competitiveness Index 2022, as fourth on the Forbes Best Countries for Business 2022 Index, as eighth on Corruption 2021 anti-corruption index and as ninth on the International Property Rights 2022 index related to the protection of intellectual rights. Its business culture, digital and transport infrastructure are highly developed.
In 2021, the Netherlands was Hungary's 6th largest foreign trade partner, with a share of 4% in the total Hungarian foreign trade product turnover. In terms of imports, the Netherlands takes sixth place, and in terms of exports, it takes seventh place (3.9% position). Based on KSH data, Hungarian exports to the Netherlands in 2022 decreased by 1.9% compared to the previous year, while Dutch imports to Hungary increased by 3.5% in the same period.
Further, the Netherlands is also the 9th largest investor in Hungary. Therefore, the business confidence is high in relation to Hungary.
Hungary is a bustling business hub situated right at the very heart of Europe; physically and in historical, geographical, cultural and economic terms, all destinations are within easy reach. As a full European Union member, Hungary is an open economy and particular emphasis is placed on encouraging foreign direct investment. Forty-five of the world's 80 largest multinationals, and many of their SME suppliers, have established a long-term presence here, benefiting from the highly skilled workforce, access to world-class universities, an advantageous location, qualified suppliers, and from an advanced business infrastructure. Investors do not simply regard Hungary as an ideal production location, but also as a remarkable "advanced manufacturing & innovation centre" of Europe. Besides reducing the corporate income tax to a 9% flat rate, Hungary introduced new forms of cash incentive measures in January 2017 to enhance corporate R&D activities and the realization of technology intensive investments. Not only Budapest, but rural cities and regions are also becoming increasingly attractive to foreign investors in Hungary. The prominent universities in the countryside serve as knowledge basis for companies, the research institutions are a testament to Hungary's traditional strengths in science and technology.
Dutch companies that already have chosen Hungary:
Accell (bicycle manufacturing), Aegon (insurance company), AkzoNobel (paints and coatings), Agrifirm (agriculture), FrieslandCampina (dairy products), Grow Group (agriculture), Heineken (brewing company), Hunland (agriculture), Leolux (furniture), NN (insurance company), Philips (health industry), Randstad (HR), Shell (oil and gas company), Signify (electronics), Tekoma (metal industry), Unilever (FMCG), Zorge (plastic industry).
Useful links
For further information please contact the Trade Office:
Laan van Nieuw Oost-Indië  271
2593 BS Den Haag
tel:  +31 70 222 3980 
e-mail: trade.hga@mfa.gov.hu
---
An overview of the events organized and supported by our Embassy, including the Trade Office, may be found here. Videos of past business events may be found on our YouTube channel.