On 3 & 4 October the Embassies of the Czech Republic, Hungary, Slovakia and Poland invite you to an online film festival. 4 countries, 4 movies, 4 screenings in your home. The films will provide a unique perspective on the past communist regimes and contemporary realities.
Csinibaba (Dollybirds) directed by Péter Tímár, Hungary, 1997, 100 min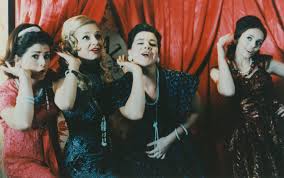 Set in 1962, during the Iron Curtain, Uncle Simon is in charge of keeping up the socialist order and moral in a housing block with factory workers. But a Great Talent Show is coming up and the cinemas show LA DOLCE VITA, which makes the block buzz with activities. Everyone wants to participate in the competition to get out and win the first price, attendance of a World Meeting for Young People in Helsinki, a place outside the Iron Curtain. A movie full of laughs and Hungarian pop songs.
Vimeo link and password (valid from 3 October 17:00 - 4 October 17:00) will be published on our Facebook page at 3 October 17:00. Don't want to miss the event? Register and receive the link and password automatically.